Development of Peanut Post-harvest Handling and Processing Technologies for the Food Industry in the Philippines and Southeast Asia (UGA 04)
Approach
The goals of UGA 04 were to identify new market opportunities for peanuts and peanut products; determine physical, chemical nutritional, functional and sensory properties of products; develop processing technologies for fortified peanut products; transfer the processing technologies; and enhance research capabilities of Philippine researchers to maintain the program.
Achievements
The 2001 consumers' preference survey in the Philippines showed that peanut butter was the best-liked product; 66% preferred stabilized peanut butter, and over 90% of respondents were willing to pay more for Vitamin-A fortified peanut butter.
Eight new and improved peanut-based products were developed and/or commercialized in the Philippines in partnership with medium-sized private food industry and micro-and small-scale enterprises, mostly owned by women, and farmers cooperatives: 1) natural and stabilized peanut butter (new), 2) Vitamin-A fortified peanut (commercialized), 3) chocolate peanut spread (to be commercialized), 4) peanut-based sauces such as "satay" and "kare-kare" sauces (aflatoxin-free products from hand sorting for removal of contaminated peanuts from producer manufacturing process), 5) peanut praline (commercialized), 6) chocolate peanut bar (commercialized product improved), 7) garlic flavored roasted peanuts (commercialized), and 8) peanut "polvoron" (new and optimized).
Improved processing methods for the optimization, sensory profiling, packaging, and shelf-life testing of these peanut-based products was standardized with assistance from the U.S. principal investigator. Collaborating scientists, industry groups, and micro/small business entrepreneurs, who were mainly women, were trained successfully on these processes. These techniques are already adopted by the Philippine participating institutions; including the food industry, cooperatives, and grassroots business organizations (micro- and small-scale enterprises). Workshops, training sessions, and publications were means of technology transfer.
Publications were used for technology transfer, such as a manual on hand-sorting technology for aflatoxin removal from peanuts that has significantly reduced aflatoxin content of peanut-based products. In the U.S., six new/improved peanut-based products were developed and some are being considered for commercialization by a Georgia-based food company (Bell Plantations, Inc.): 1) resveratrol-enhanced peanuts, 2) peanut butter from resveratrol-enhanced peanuts, 3) cheese-flavored cracker coated peanuts, 4) caramel-flavored cracker coated peanuts, and 5) chocolate flavored peanut spread, and 6) roasted peanuts. The chocolate flavored spread was introduced from the Philippines, tested with a private company, and a corresponding product developed and optimized with consideration of the preferences of the American consumer. One U.S. patent for resveratrol enhanced peanut is provisional and will be final in May 2005.
Focus
Processor Values
Principal Investigator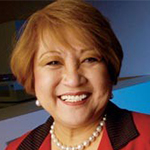 Dr. Anna Resurreccion
University of Georgia
Cooperators
Dr. Manjeet Chinnan, University of Georgia
Dr. Larry Beuchat, University of Georgia
Philippine Collaborator
Dr. Alicia Lustre, Food Development Center/National Food Authority, Manila
Philippine Cooperators
Dr. Flor Galvez, University of the Philippines at Diliman, Quezon City
Dr. Lutgarda, Leyete State University, Baybay, Letye
Prof. Lucy Palomar, Leyete State University, Baybay, Letye