Development of Sustainable Peanut Production Technologies for Amerindian Villages in the Rupununi region of Guyana (UFL 52P)
Approach
The goal of UFL 52P was to improve the standard of living and protect the environment in the Rupununi region of Guyana by improving per unit and total peanut production in a sustainable manner, which would include adapted higher yielding disease resistant varieties, evaluate insect management needs, determine nutrient needs, and evaluate the value of small-scale labor-saving devices and machinery. The EEP visit in Jan-Mar 2005 noted over production and the need for market development. The Government of Guyana was in the process of establishing a School Lunch Program, which USAID/Guyana was interested in as market development. This resulted in the cooperative work to introduce peanut butter/cassava bread sandwiches into this Lunch Program.
Achievements
New technologies (increased plant density in particular) have resulted in a dramatic increase in peanut production in the Rupununi region, from 300 farmers and 400,000 pounds in 2001 to 700 farmers and an estimated 1.5 million pounds in 2004. Much of the yield increase has been from increased area planted and brush clearing on land that can have negative environmental impacts. The increase in production has exceeded markets and discouraged farmers. In Guyana women are not generally involved in farming, although a few of the larger growers are women (who produce about 30 ha). Individual farmers generally cultivate from 1-3 ha. The research is directed towards increased use of soil amendments, better cultivation practices, and improved varieties (some improved varieties that appear to be adapted have been identified).
The farmers are receptive to the new potential for peanut production and the information that the Peanut CRSP will contribute. Attention developed to find ways to utilize the over production of peanuts, with active collaboration between the local collaborator, Beacon Foundation. Equipment for roasting and grinding has been improved, and require a labor intensity that will employ available labor. Women's groups have been trained to use the improved peanut butter processing equipment. Also, labor saving production devices have been acquired and demonstrated, such as planters, diggers, shellers. Women have played a major role in the market pull efforts that can absorb the over-production, who will be trained in workshops. The demonstrations have introduced the use of the shelling, roasting, de-skinning, and peanut butter grinding technologies. A school lunch feeding program has been identified as a major sales outlet for the peanuts. The making of cassava bread has been demonstrated, and will be sold in the school lunch programs with the peanut butter. The Beacon Foundation, Peanut CRSP and USAID/Guyana has been supporting development of aflatoxin certification capacity of the Food and Drug Authority in Georgetown, and the training of Guyanese entrepreneurs in improving their products, using best manufacturing processes, and quality control.
Traders from Georgetown have shown interest in purchase of peanuts and products from the Rupununi region, which resulted in a 20% increase in net return, but are hampered by poor roads and distance to the production areas. Farmers are being exposed to new technologies through field days and technical workshops along with surveys, which were conducted in 2002 and 2003. Trials and workshops were held in five villages in 2004. There is a high interest in the development of cottage industries to produce peanut butter and cassava bread for school lunch programs. This effort developed into seven villages that were involved in an initial effort to implement the program. Partnerships with Beacon Foundation, USAID, the National Research organizations (NARI and MFCL), Canada through CFLI, women's support from Farmer to Farmer and Partners of the America's organizations and possibly the World Bank all may contribute to the expansion of the school lunch program to many more villages in the Rupunui region.
Focus
Producer Values
Principal Investigator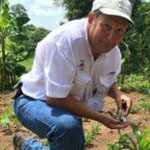 Dr. Greg McDonald
University of Florida
Co-PIs
Dr. Bob Kemerait, University of Georgia
Dr. E. Jay Williams, University of Georgia
Dr. S. Brown, University of Georgia
Dr. Glen Harris, University of Georgia
Guyana Collaborators
Clairemont Lye, Beacon Foundation, Georgetown
Jerry LaGra, Beacon Foundation, Georgetown