Aflatoxin Financial and Health risks along the Peanut Marketing Chain in Ghana
Approach
The goals of this project were to evaluate the effects of aflatoxin contamination on the profitability of market participants producing and trading peanuts and peanut products in Ghana and Benin; effectiveness and profitability of sorting compared to other methods. Also, studies will compare modified commercial and traditional storage methods for reducing aflatoxin contamination of peanut and determine the specificity and reliability of methods for detecting aflatoxin. Overall, the main issue addressed by the project was aflatoxin reduction in storage of peanut and ways to reduce contamination in the marketing chain.
Achievements
In Ghana, aflatoxin management strategies for peanuts during storage were implemented and evaluated for their effectiveness. The findings showed there was increased awareness among project participants in the importance of quality peanuts in the marketing chain, i.e., the effects of aflatoxin contamination on peanut profitability. Interest was not generated in aflatoxin management without the assurance of improved profits. This led to an increased adoption and use of improved storage facilities and many farmers disinfecting their storage facilities. These findings also sent out important signals to policy makers and agricultural officers on policy formulation to encourage fabrication of efficient and affordable storage structures, and to adopt improved storage techniques to reduce aflatoxin contamination in peanuts.
The studies conducted in 2011 showed that a large percent of the farmers already use improved storage technologies. The farmers indicated that most of them had been in contact with Non-Governmental Organizations (NGO's), who assisted them in improving already locally designed storage technologies that enabled them to reduce spoilage and losses by almost 50 percent. Market participants were willing to pay a premium of up to 33 percent of the present market price for a cleaner and safer product. These results provided policy makers with new information and incentives to reduce contaminated peanut. Since younger farmers based on the number of years of experience, were more likely to adopt technologies to improve aflatoxin reduction technologies, more effort should be focused on this group of farmers. It was also demonstrated that cooperative membership was an effective means of technology diffusion. Hence, peanut producers should be encouraged to participate in cooperative meetings and workshops. Overall, it is perceived that both producers and consumers will support aflatoxin standards, since producers will not lose profits and consumers will receive health benefits from products with lower aflatoxin levels.
It was shown that women play a major role in food production and safety in Ghana. They also contribute to post- harvest handling of peanuts. However, the women who participated in the study have less formal education and have little knowledge of aflatoxin contamination of peanuts. This sends a message to policy makers that in order to reduce the aflatoxin problem women must be educated on the problems of aflatoxin in peanuts in Ghana.
Lead Scientist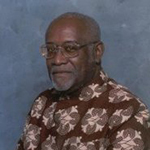 Dr. Curtis Jolly
Research Collaborators
Auburn University
Auburn University at Montgomery
Kwame Nkrumah University of Science and Technology
Dr. William Otto Ellis
Dr. Simon Fialor