Improved West African Peanut Production for Enhanced Health and Socioeconomic Status through the delivery of Research-based Production Systems in Ghana
Approach
The goals of this project were to increase production efficiency through the development and deployment of IPM practices with emphasis on diseases and insects, and to integrate aflatoxin risk into the disease and insect management strategies, and determine the influence of production and pest management practices on aflatoxin incidence.
Achievements
Pests decrease yield, quality and safety of peanuts for farmers and consumers. The work of this project was to identify, document, and strategize ways to minimize their impact, especially with regard to aflatoxin contamination in the field during harvesting, handling and storage. Via multidisciplinary research efforts, some U.S. information was transferred to Ghana, and has ameliorated the effects of diseases and insects.
IPM practices impact production systems and produce effective, efficient and minimal pesticide use, including application practices that protect workers, the environment, and food supply. Two new cultivars that would contribute to decreased production costs were released in Ghana in 2012, which have greater drought tolerance, and are more competitive against weeds, produce higher yields, and are less susceptible to leaf spot, rust, and insect pests. They also produce a consistent level of yield under varying environmental conditions. The result should be control of Aspergillus fungi (the source of aflatoxin) contamination due to soil pest damage of developing pegs, pods and seeds inside pods.
The introduction of the NGO-full belly project's peanut sheller has relieved the burden of hand shelling which should result in increased production through increased planting acreage and better timing of marketing. The shellers have been met by much enthusiasm, and the farmers are discussing the development of their own industry to build them. From 2010-2012, groundnut shellers were fabricated by CSIR-CRI mechanics for distribution to groundnut IPM farmers who participated in the Farmers Field School organized under the Peanut CRSP activities. Shellers were distributed to farmers in six villages in three regions. The quality of peanut in the market is greatly improved with less damage and aflatoxin contamination. The use of planting in rows, germination testing, leaf spot control and timely harvesting are four technologies that added to production, processing and marketing that was vastly improving Ghana's peanut industry, and have been extended to farmers through Farmers Field Schools. Recent socioeconomic studies and a current study document the economic impact of increased cost effective peanut production in Ghana.
Recent focus in North Carolina has been on the development of decision making tools for farmers and refined pesticide use. Current control practices and production methods were surveyed and evaluated as cultural practices to reduce pest problems such as CBR and tomato spotted wilt virus. In 2010 and 2011, several projects focused on pesticide interactions and the development of alternative approaches for old chemistries still in use. This effort was accelerated with the sudden cancelation of the registration for Temik (aldicarb) as an "at-plant, in-furrow" insecticide. At this point no alternative for Temik has been identified that provides the same consistency of control as Temik. A new cultivar, Perry, yields well and is popular with farmers, but is susceptible to tomato spotted wilt virus. But farmers are committed to use IPM practices to control the virus, which enables the use of the cultivar and shows the value of cultivar development and IPM cooperation.
Lead Scientist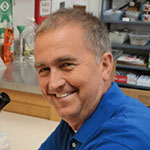 Dr. Rick L. Brandenburg,
Wm. Neal Reynolds Distinguished Professor
Research Collaborators
Counsel for Scientific Industrial Research - Crops Research Institute
Dr. Grace E. Bolfrey-Arku
Dr. Awere Ansong Dankyi
Dr. Joseph N.L. Lamptey
Dr. Emmanuel Moses
Dr. Kingsley Osei
Dr. Michael Owusu-Akyaw
Counsel for Scientific Industrial Research - Savanna Agriculture Research Institute
North Carolina State University
Texas A and M University
Agrilife Research and Extension Center at Lubbock
University of Georgia