Overcoming Abiotic and Biotic Constraints to Yield, and Production of High-quality Peanuts in West Africa

Approach
The goals of this project were to develop peanut cultivars that overcome constraints to productivity across West Africa. Collaboration with a range of Peanut CRSP projects assures distribution of improved cultivars across the region. Development and deployment of drought tolerant and shorter duration varieties capable of avoiding drought will reduce aflatoxin incidence. Identification of molecular markers will aid in cultivar improvement. Outcomes will have significant impact in the host countries as well as the U.S. with regard to production efficiency, improved quality, and reduction of input costs. Disease resistance will reduce the requirement for costly chemical use and reduce the impact of these on the environment.
Achievements
Overcoming multiple constraints and transferring these new technologies on yield and production of high quality peanuts in West Africa and Texas have been the objectives of this project, which is a continuation from earlier phases of the Peanut CRSP. Materials with field measures of improved drought tolerance were found in Texas and crosses are underway to introduce drought tolerance into cultivars from Africa. Early maturing, high-oleic runner and Spanish peanuts were set to be released for the Texas market. One cultivar under the name Schubert that matures one week earlier and yields 10% higher will replace the high oleic cultivar Olin was approved in 2012. Two runner cultivar release proposals were submitted in Texas in 2011, and releases of an early-maturing, high oleic runner and a high-oleic runner with resistance to root-knot nematodes and Sclerotinia blight were approved in 2012. Two leaf spot resistant cultivars were set for release in Burkina Faso; a Spanish cultivar (yields 20% higher than the disease susceptible check over 8 years of tests) and a runner cultivar (that out yields the same check 50% and the Nama cultivar by 100%). Progress was being made in germplasm improvement with the potential of development of a leaf spot resistance cultivar in Ghana, and evaluations were being made in cooperation with the NCS 131 and UF157 projects with goals to improve effectiveness and profitability of the use of fungicides and herbicides. Senegal was in the process of release of two Spanish cultivars with fresh seed dormancy (will reduce yield losses from germination of mature seed when late rains occur prior to harvest) and drought tolerance along with six other early maturing varieties released in 2010 under separate funding.
Crosses to transfer high oleic traits from wild species have been successful. The results are hybrids with alleles closer to cultivated peanuts. Six accessions from previous evaluations were selected and increased for new and underway regional trials of leaf spot-resistant materials with improved yields.
A major accomplishment in this project has been the development of high oleic acid cultivars of peanut in Texas and movement into the West Africa program. The high oleic trait delays rancidity of peanut seed and peanut products during storage, which improves the flavor and value of peanut and peanut products. It was noted earlier that a peanut industry leader stated that high oleic peanut cultivars is the greatest accomplishment ever made by the peanut research community. An increase in oleic acid results in a corresponding decrease in linoleic acid; linoleic acid is responsible for the earlier onset of rancidity.
Research on molecular markers is underway that have the potential of identifying in a much shorter time important traits in peanut germplasm. Mapping of plant genomes is an exacting science, and it is notable that training has been provided to a Burkina Faso scientist in a visit to Texas.
Seed multiplication is a primary objective of the Senegal peanut breeding program. The Peanut CRSP, ISRA and the NGO – ASPRODEB are cooperating to improve seed multiplication and distribution to farmers of both new and formerly released cultivars, which include seven cultivars developed in Senegal with Peanut CRSP assistance that now occupy about 400,000 ha of production. Seed multiplication for farmers is basic to the growth and profitability of the peanut sector. Seed multiplication is an objective in Northern Ghana, with an aim to create awareness among farmers of the benefit of growing leaf-spot resistant cultivars. Field Days will demonstrate to farmers the difference of early leaf loss due to disease and later leaf loss due to maturity of the plants. Scientists from Senegal and Burkina Faso have been trained in topics related to cultivar development and release, mechanization, and seed increase, maintenance, and distribution. Efficient and cost effective systems for seed increase, multiplication, and distribution to farmers is a major constraint to improvement of the peanut sector in many developing countries.
Lead Scientist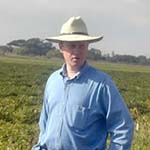 Dr. Mark Burow
Research Collaborators
ATTRA-B
Dr. Leopold Zinsonne
Institut de l'environnement et Recherches Agricoles
Dr. Zagre Bertin
Institut Senegalais de Researches Agricoles/Centre National de Recherches Agronomiques
Dr. Ousmane Ndoye
Dr. Mahama Ouedraogo
New Mexico State University
Dr. Naveen Puppala

North Carolina State University
Savanna Agricultural Research Institute
Dr. Nicholas Denwar
Texas A & M University
Dr. Michael Baring
Dr. Phyllis Brysch
Dr. Charles E. Simpson
Dr. Albert Schubert
Texas Technical University
Dr. Michael Gomez Selvaraj
United States Department of Agriculture - Agriculture Research Service
Dr. John Burke
University of Florida
Dr. Kenneth Boote
University of Ouagadougou
Dr. Philippe Sankara