Improving the Health and Livelihood of People of East Africa by addressing Aflatoxin and Gender-related constraints in Peanut Production, Processing and Marketing
Approach
The goals of this project were:
To conduct surveys on peanut consumption in four major peanut growing regions of Uganda to collect aflatoxin exposure data;
Develop an HACCP system for small-scale peanut processors and cottage industries to allow trained people to obtain certification/ISO22000 from the government (UNBS) for their peanut products;
Develop information education and communication materials for aflatoxin awareness campaigns and training of graduate students, researchers, processors and traders, women's groups and government personnel
Develop non-destructive Rapid Deduction System to test for aflatoxin using Fourier Transformation, Infrared Spectroscopy with Attenuated Total Reflection (FTIR-ATR) or Photo Acoustic Spectroscopy (FTIR-PAS);
Carry out ethnographic research in selected households in urban and rural areas in Kenya and Uganda; and develop livelihoods strategies and models to reduce poverty and malnutrition by working with women's organizations.
Achievements
Capacities for estimation of food-based Aspergillus fungi growth and aflatoxin contamination were established in Uganda and Kenya. Therefore, aflatoxin contamination data were generated for peanuts and peanut butter products on farm, and at the processor and market place levels in these countries. The aflatoxin contamination data and peanut consumption data determined in Uganda were utilized by the Uganda government agency responsible for standards (UNBS) to set maximum limits (MLs) for management and control of aflatoxins in peanut and peanut products.
In both countries, training processors and traders on Hazard Analysis Critical Control Points (HACCP) was conducted through workshops and the technology implemented for reduction of aflatoxins in peanut based foods. Information, Education and Communication (IEC) materials on management of aflatoxins in peanuts were developed and presented to stakeholders through farmer meetings and distribution of informational materials with the assistance of a key women's organization. Large numbers of people were made aware and trained in aflatoxin- associated problems and management each year of the project in both countries.
In Uganda in 2011, more peanut traders and processors especially those from the Groundnut Eastern Block were interested in implementation of HACCP and have contacted project participants for training. Clean and safer peanuts are sold within the region and the safety of the bentonite clays in Uganda has been established. More women are now registered with NAWOU and can get benefits from this organization, while more scientists are aware of the activities done by the Peanut CRSP on management of aflatoxins. More collaboration has been established with scientists and organizations addressing food safety. One publication on farmer peanut stories from Mubende has been completed and will scale up the impact of the Kamuli stories.
In Kenya, preliminary results indicate that the storage conditions and containers of peanuts significantly influence the quality of peanuts, which will help in creating awareness both at household levels and markets on storage conditions which will help maintain peanut quality during storage. This information would also be useful in planning for intervention strategies. The hands on training in DNA extraction techniques will go a long way in establishing the diversity of cultivated peanuts in Kenya. It may also contribute to the search of peanuts with useable sources of resistance against aflatoxin contamination. Data generated will help in accessing the risk of aflatoxin contamination in the peanut value chain, and will be used to develop a HACCP plan for the cottage industry in Kenya and building capacity of small scale processors to implement HACCP. The study would be equally useful in planning for intervention strategies.
A handbook has been developed for teaching peanut farmers and extension personnel in the ministries of Public Health and Agriculture. A concurrent video will be aired on one of the leading television channels in Kenya. The information provided will sensitize farmers, traders and end users on peanut handling aspects of quality and marketing. Additionally, the information should increase awareness of the health implications of aflatoxin, and the aflatoxin influence on economic development.
In 2012 in Uganda, continued sampling of peanuts in markets show substantial reduction in aflatoxin. This has helped women farmers market their products. Strategies to address aflatoxin problems in Uganda have been shared with scientists within and outside Africa through presentations in scientific meetings, with scientists continuing to appreciate the role Peanut CRSP plays in management of aflatoxins in Uganda. This role has been strengthened by Dr. Kaaya becoming a registered member of the African Mycotoxin Network and Partnership for Aflatoxin Control in Africa. Impact studies by a graduate student reveal that HACCP training for small scale processors facilitated by the Peanut CRSP equipped them with knowledge to implement HACCP plans to produce good quality and safe products. Women in East and Central Africa have continued to participate in the research and education activities of the project, which has enhanced women's sense and capacity for productivity as well as making visible the values of peanuts in daily lives, such as nutrition and economic value.
Together with Uganda Consumer Education Thrust (CONSENT) a draft petition entitled "Millions at risk of death from poison in our food: A wake-up call to stem exposure of vulnerable people to deadly aflatoxin in the food value chain" has been written in 2012. This will be taken to the parliament of Uganda and to other relevant policy makers including Government Ministries and NGOs for possible alliance towards aflatoxin elimination campaigns.
The significance of the research and awareness campaigns can be seen from the potential for larger markets for high quality peanut products from the region, through the reduction of aflatoxin contamination in peanuts and peanut products. Assistance in the implementation of good manufacturing practices through Hazard Analysis at Critical Control Points (HAACP) program will improve product quality that translates to improved livelihoods through the increase of revenue.
Lead Scientist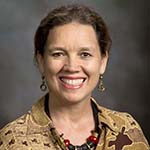 Dr. Marie Elise Christie
Research Collaborators
Consultative Group for International Agricultural Research
Egerton University Dept of Agricultural Economics and Agribusiness Management
International Crops Research Institute for the Semi-Arid Tropics
Kenya Agricultural Research Institute
Dr. Charity Kawira Mutegi
Makerere University
Dr. Archileo Kaaya
Dr. Monica Karuhanga
Dr. Margaret Mangheni
National Association of Women Organizations in Uganda
University of Nairobi
Dr. James K. Gathumbi
Dr. Christopher Munyao Nyamai
Virginia Polytechnic Institute and State University
Dr. Jeff Alwang
Dr. Nevada Davis