AflaGoggles for Aflatoxin Detection
AflaGoggles for Screening Aflatoxin Contamination in Maize
Aflatoxin contamination in peanuts and maize is a major food safety issue worldwide, but particularly in African countries where these are staple foods.
One problem with identifying contaminated food in these countries is that there isn't an affordable and feasible method for farmers on small village farms to screen for aflatoxin contamination.
Since existing aflatoxin detection methods are expensive, this project is meant to develop a portable, rapid, and non-invasive technology that can detect aflatoxin through the fluorescence of contaminated kernels or nuts.
At first, lead scientist Haibo Yao envisioned goggles that would allow a tester to see the fluorescence emitted by the toxin. That concept has evolved into a handheld device, currently a small box, that uses UV LEDs to cause the contaminated kernels to fluoresce and the camera in a tablet to detect and display the image.
Lead Scientist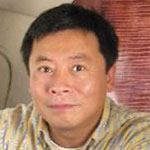 Dr. Haibo Yao, Associate Research Professor
Research Collaborators
International Institute of Tropical Agriculture
Dr. Alpha Kamara
Dr. Abebe Menkir
USDA-ARS Food and Feed Safety Research