Rice and Diversified Crops in Bangladesh
Implementing Partner
ACDI/VOCA
Consulting scientist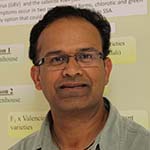 Naveen Puppala
Associate Professor
New Mexico State University, US
npuppala@nmsu.edu


Rice and Diversified Crops Activity
Country focus: Bangladesh
Project length: 1 year (phase 1)
Budget: $30,000
Bangladesh farmers grow approximately 66 metric tons of peanuts a year, mostly on small farms, but can only provide about half the volume that consumers want.
The demand for peanuts is expected to rise, but if these smallholder farmers – farmers who have limited land for cultivation and face pressure from climate change – want to increase production, they must use improved varieties and agronomic practices, while improving post-harvest storage and handling.
Peanut cultivation is unique in Bangladesh, where the crop is grown on char lands – sandy riverbeds that are exposed during the dry season. These areas flood each year, and often shift as rivers move.  Since peanut can produce a crop quickly and make use of these marginal soils, the plant is particularly adapted to deal with the challenges of limited land and climate change.
The Peanut Innovation Lab is in a unique position to be able to provide the required research and training across the value chain given its links with US and global peanut research in the public sector, and strong ties with the peanut industry in the US. The ultimate goal is to enhance the production and processing of quality peanuts that meet the market demands in Bangladesh.