Production Packages for Malawi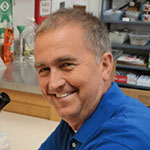 Principal Investigator
Rick Brandenburg
Department of Entomology and Plant Pathology, North Carolina State University, Raleigh, NC
Rick_Brandenburg@ncsu.edu
Co-PIs
David Jordan
Department of Crop and Soil Sciences, North Carolina State University, North Carolina State University
David_Jordan@ncsu.edu
Dominic Reisig, Department of Entomology and Plant Pathology, North Carolina State University Raleigh, NC
W. Mhango
Lilongwe University of Agriculture and Natural Resources, Crop and Soil Sciences Department, Lilongwe. Malawi
wmhango@bunda.luanar.mw
Collaborators
Jeremy Venable
Malawi Agricultural Diversification Activity, Lilongwe, Malawi
Jim Goodman
Horizon Farming Ltd, Bunda, Malawi
Development of efficient agronomic peanut production packages for Malawian farmers
Area of inquiry: Value-added Gains
Country focus: Malawi
Project length: Four years
Budget: $299,740
This project develops profitable and sustainable peanut production practices that combine inputs and interventions to measurably increase yield, quality and profitability for smallholder and more commercial farmers. Packaging practices that have been proven to be beneficial through past research into a whole program across numerous cultivars will be accomplished through this project.
Specific objectives of the project are to:
1) develop production packages that optimize smallholder farmer productivity, quality and profitability;
2) publish and disseminate a production and management guide for peanut production in Malawi and surrounding countries; and
3) build capacity in Malawi through the training of a Ph.D. student and conducting training workshops in peanut production.