Biochar nearly doubles peanut yield in student's research
By Alex C. Merritt
University of Georgia, Peanut & Mycotoxin Innovation Lab
For master's student Munsanda Ngulube, the solution to her home country's low crop productivity starts at the source: the soil itself.
In Zambia, 30 percent of the country's agricultural soils are more acidic than the preferred pH range for many commercial crops.  That acidic soil, Ngulube said, is a major problem for farmers who must deal with nutrient leaching from the fields in high rainfall regions.
"Acidic soils reduce the availability of a number of essential macronutrients and increase the toxicity of elements such as aluminum and magnesium, which retard crop growth, affecting yields," Ngulube said. "This results in monetary losses for the farmer."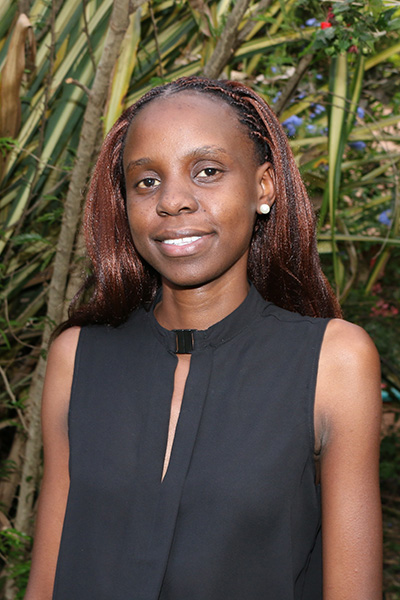 This loss of income hurts smallholder farmers who rely on a small profit to make it year to year. On the other end of the value chain, reduced yield hurts consumers by increasing food prices.
For peanuts, a fundamental part of the Zambian diet, higher prices mean that regular people may not be able to buy enough of a major source of their daily nutrients.
"Peanuts are our main source of protein," Ngulube said. "Peanuts are eaten as a snack, raw, roasted or boiled and as a peanut paste. Peanut powder is added to porridge, especially for children under 5 years, which is highly recommended nationwide by health workers to mothers."
Scientists like Ngulube are researching unique ways to address Zambia's soil quality problem. With support from the Peanut & Mycotoxin Innovation Lab, Ngulube is studying Integrated Soil Fertility Management at the University of Zambia.
Ngulube wanted to find an effective method to decrease soil acidity in agricultural soils. She focused her master's thesis on the ability of biochar, a charcoal that can be used as a soil amendment, to improve soil characteristics for peanuts during drought periods.
"I tested characteristics such as soil reaction (pH levels), water, and nutrient retention," Ngulube said.
She began by planting plots of peanuts in a greenhouse, and adding different concentrations of biochar to the soil. Then, utilizing three different water regimes, she was able to simulate drought conditions for the plots.
At the end of the growing season, Ngulube tested the soil's acidity, water retention, nutrient levels, and yield to calculate the impact of biochar on soil quality and peanut yield.
She found that the biochar neutralized the soil's acidity, enhanced the soil's moisture retention, and increased crop growth. Her tests showed the ideal biochar application rate was 1.7% by weight of the soil, which resulted in a yield almost twice that of plots under normal conditions.
"From my results an optimum biochar application rate was determined for the groundnuts based on the biomass yield. This can be used for further field studies and hopefully adopted by some groundnut farmers to improve yield quality and quantity," she said.
Because Ngulube's research took place in a greenhouse, she was able to measure the effects of biochar in a controlled environment. She said the next step is to take biochar research out into the fields to see how it is applicable to field conditions.
"It would be good to see how, at this biochar rate, the groundnut crop will perform under field conditions," she said. "These findings can be introduced to the ordinary farmer to help improve their groundnut crops."
Ngulube wants to continue finding ways to contribute to society through science. Her passion for discovering solutions to Zambia's soil quality problem is driving her to continue her education.
"After graduation, I would like to further my studies by pursuing a PhD in Soil Microbiology," she said. Eventually, she'd like to teach the next generation of soil scientists to have an even greater impact.
"I would like to be a researcher and a lecturer in the future. This would allow me to mentor and guide the young up-coming scientists and also help me add new knowledge to help society through research," she said.
– Published June 29, 2017