Visiting scientists tour Florida peanut fields
By Christy Fricks
University of Georgia, Peanut & Mycotoxin Innovation Lab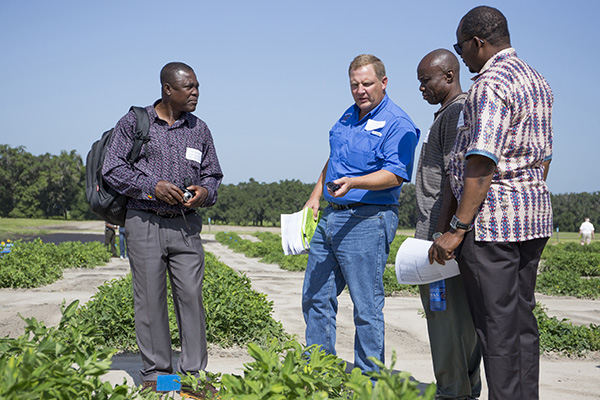 In July 2015, University of Florida professor Greg MacDonald, who serves as the PI for the Haiti Value Chain project, hosted PMIL collaborators on a tour of UF peanut fields and organized a visit to the farm of a local peanut farmer, Andy Robinson, as well as a visit to a local peanut processing facility nearby.
The visit to the UF research plots was featured in several articles including Growing Georgia. The articles highlighted the work of MacDonald and Noelle Barkley to chronicle, research and maintain the more than 1,000 varieties of peanuts planted at the plot.
MacDonald wrote about the farm visits in a recent feature on the PMIL Blog Field Notes.
PMIL attendees at the Florida tour included from Burkina Faso: Phillippe Sankara; Ghana: Mumuni Abdulai, Nicholas Denwar, Israel Dzomeku, Moses Mochiah, Esther Akoto, Maxwell Lamptey; Haiti: Jean Philip Dorzin, Vanessa Fillippini, William Sheard; Malawi: Justus Chintu; Mozambique: Amade Muitia; Senegal: Issa Faye; Uganda: David Okello; Zambia: Lutangu Makweti; and USA: Mark Burrow, Mike Deom, Dave Hoisington, Naveen Puppala, Jamie Rhoads, and Jinru Chen.
Published July 15, 2015