Groundnut Seed Production Manual for Uganda now available
By Christy Fricks
University of Georgia, Peanut & Mycotoxin Innovation Lab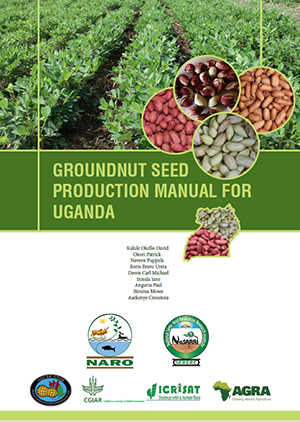 "Groundnut Seed Production Manual for Uganda," authored by David Kalule Okello, Patrick Okori, Naveen Puppala, Boris Bravo-Ureta, Carl Michael Deom, Jane Ininda, Paul Anguria, Moses Biruma and Cresensia Asekenye is now available for download on the Peanut & Mycotoxin Innovation Lab (PMIL) website.
Groundnut (peanut) is one of the staple crops in Uganda, rich in protein, oil and essential minerals. The crop is increasingly becoming a cash crop and both production area and productivity are increasing.
In Uganda, the seed sector for many crops, including groundnut, is faced with many constraints, including the limited supply of foundation seed, poor seed quality control, poor demand estimation and inadequate distribution systems.
This English language manual provides salient information on recommended groundnut seed production practices and costs-benefits of producing different varieties to help farmers make important decisions. The manual also features a review of the current seed law, certification and monitoring standards.
It is part of a series of Uganda production guides produced by David Okello at the National Agricultural Research Organization's (NARO) National Semi-Arid Resources Research Institute(NaSARRI) in Serere, Uganda and available on the PMIL website.
Other titles in the series include: Groundnut Production Guide for Uganda: Recommended Practices for Farms," and "Management of Aflatoxins in Groundnuts: A Manual for Farmers, Processors, Traders and Consumers in Uganda."
Published February 13, 2015