PMIL master's student researches link between oil processing and aflatoxin contamination
By Alex Merritt
University of Georgia, Peanut & Mycotoxin Innovation Lab
Clara Kasakula wants to know how to get the highest quality peanut oil into the kitchens of cooks throughout Malawi.
Peanut oil, a popular ingredient found in food around the world, is extracted from peanuts using a variety of methods, including using a press, water, or a chemical compound called hexane. Processors, especially small-scale local processors, often extract oil from peanuts contaminated with aflatoxin, the byproduct of naturally occurring mold.
Kasakula based her master's thesis research on whether the actual extraction method used is important at keeping aflatoxin out of peanut oil.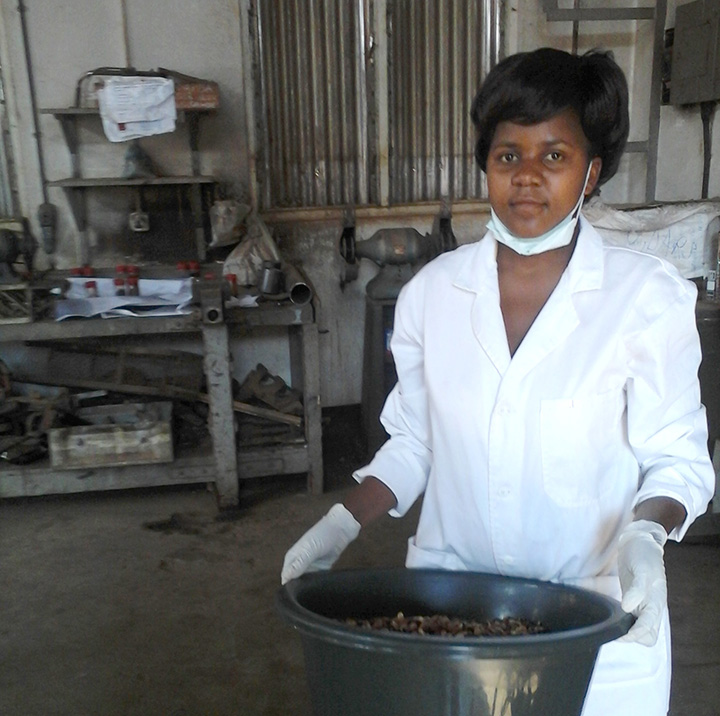 "The findings of the study will help advise small-to-medium scale oil processors who produce groundnut oil," says Kasakula, a 23-year-old student at the Lilongwe University for Agricultural and Natural Resources.
Kasakula's research shows that when it comes to crude oil, extraction and processing methods have a large effect on whether aflatoxins make it into the final product.
"The results show that extraction using hexane is better than using water and presses. The aflatoxin level was significantly lower in the oil extracted using hexane," said Kasakula. Factors such as temperature of extraction had no significant effect. No matter what methods she studied, however, "there is still some small amount of toxin present in the oil."
Aflatoxin, a type of mycotoxin, can cause death in high enough concentrations, and chronic exposure has been linked to stunting in children and cancer in adults. Peanuts, or groundnuts, as they are called in Africa, are popular in Malawi in confectionaries or snacks, in peanut butter or powder, and in foods fried in peanut oil.
For Kasakula, her research is both intellectually stimulating and personally rewarding.
"My favorite part about this research is the fact that I am able to have hands on experience in extraction of the oil … and to see the carryover of the toxin from the raw nuts, to the oil, and to the cake. To actually be able to track the toxin, and see the change and the difference in all stages."
It's not all about the science for Kasakula, however. Love of her people and the desire to improve her nation are also driving factors in her research.
"I wanted to find a deeper understanding of food and the food industry so as to help my nation utilize food better and to develop the food industry in Malawi," Kasakula says. "The moment I heard about aflatoxins in groundnuts, I wanted to find out more about it because this is one of the foods that is commonly consumed as a confectionary in the country… and roasted groundnuts are a personal favorite of mine. So I wanted to find a way of pulling the toxin out of the food chain without having to completely discard the nut."
After she graduates in the spring of 2017, Kasakula plans to pursue a Ph.D. and do further research on aflatoxins in peanuts as well as other food products like milk and maize. For now, however, the research has only left her with more questions.
"I wish I could better understand the mechanism behind the aflatoxin carryover from the raw nuts to the oil considering that oil is a non polar substance while aflatoxin is partially polar." Because of this polarity, aflatoxin is attracted to water and repulsed by oil. "During oil extraction, the aflatoxin should all go into the cake, not the oil."
"Knowing the mechanism that governs the transfer of the toxin will help others to find a way of blocking aflatoxin transfer to the oil."
Published Feb. 21, 2017