By Christy Fricks
University of Georgia, Peanut & Mycotoxin Innovation Lab
Background
Abdi Mohammed Hassen is a short-term Peanut & Mycotoxin Innovation Lab (PMIL) trainee working with PMIL Lead Scientist Renee Arias at the United States Department of Agriculture National Peanut Research Laboratory (USDA NPL) in Dawson, Georgia. Abdi worked with Arias from August 5th until October 27th of 2014. He has returned home to complete his PhD degree in Plant Pathology from Haramaya University, Dire Dawa, Ethiopia. He plans to graduate in October/November, 2016.
PMIL: What is your research focused on?
Hassen: "My research is mainly focused on Aspergillus species diversity and aflatoxin production in groundnut. My Ph.D. project title is "Diversity and Management Options of Aspergillus Species and Aflatoxins Associated With Groundnut (Arachis hypogea L.) in Eastern Ethiopia."
Right now I am using different kinds of crop/disease management options including biological agents in my field and laboratory experiments in Ethiopia."
PMIL: How did you become interested in this research?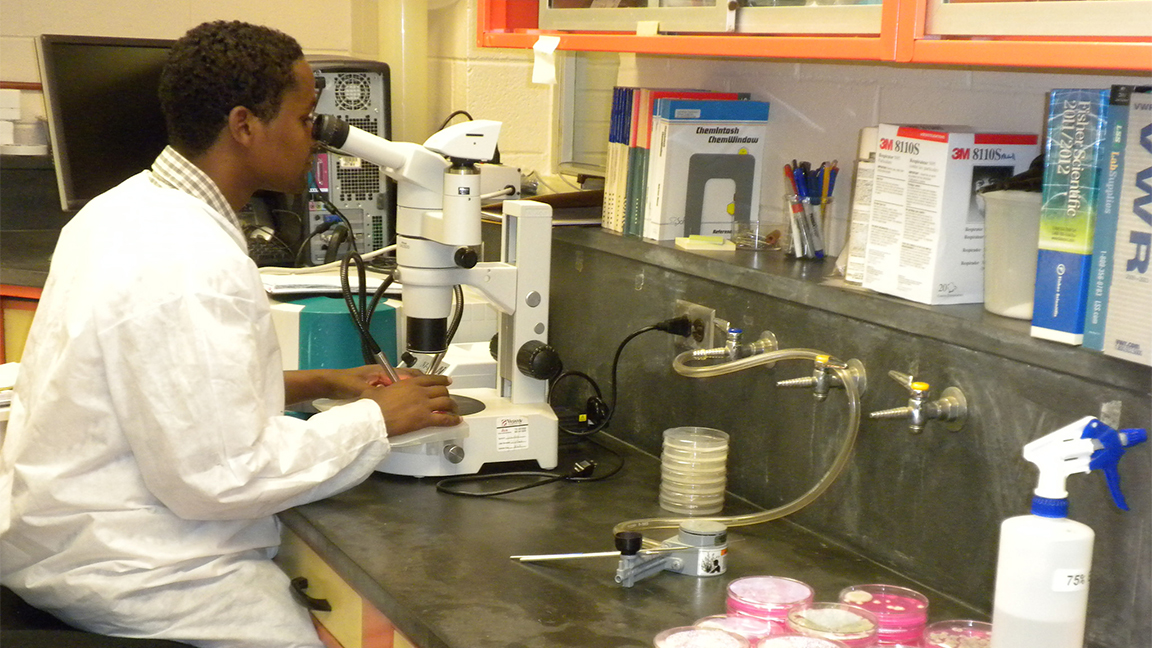 Hassen: "When I joined for my M.Sc. at Hawassa University, one of my supervisors urged me to conduct research on aflatoxins around eastern parts of Ethiopia, since I am originally from that area. I did, and we detected high levels of aflatoxin concentrations from eastern Ethiopia (Chala et al, 2012, in Elsevier Journal), higher than internationally recommended aflatoxin concentrations.
Moreover, there are food and oil processing companies in the eastern part of Ethiopia. Previously, they used groundnut from the surrounding areas. But there were aflatoxin problems in the food products and they stopped using the local supplied groundnuts.
The food company, which is in Addis Ababa, now imports the groundnuts from South Africa and Europe, which is higher quality than Ethiopian products. The local groundnuts are only for domestic markets, and not exported to international markets. So aflatoxin problems pose serious problems, on both the economic security and health of the local farmers.
There is limited research work on management of aflatoxin production in Ethiopia. Even on groundnut, there is little research work. Because of this, I am intent upon solving these problems and proposed my graduate research on the diversity and managements of Aspergillus species and aflatoxin production."
PMIL: How do you feel your experience with PMIL and working with Renee Arias will help you make a difference?
Hassen: "My experience with PMIL has been very good. It is a good opportunity for me to be here. And, to speak frankly, I am very lucky. I would like to thank Dave Hoisington and Allen Stripling, who both played a role for me to be here today.
I gained many experiences I did not have before, specifically on molecular diversity of Aspergillus species and appropriate methodology for aflatoxin extractions, clean-up and detection by UPLC while working with Renee Arias."
PMIL: What are your long-term plans for this project?
Hassen: "I want to accomplish my projects and ultimately improve the lives of the farmers in my country. I will continue to collaborate with the USDA NPL team and PMIL. Hopefully I will be able to recommend aflatoxin management approaches that are easy for farmers to practice.
My overall objective is to solve the aflatoxin problems from fields to forks, in all of the value chains in Ethiopia."
Published October 27, 2014