Research focus: Using peanuts and probiotics to help malnourished children
By Christy Fricks
University of Georgia, Peanut & Mycotoxin Innovation Lab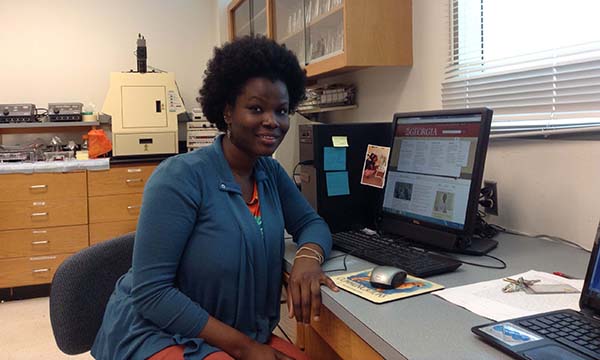 Background
Yaa Asantewaa Kafui Klu, holds a PhD in Food Science from the University of Georgia (UGA). Born and raised in Cape Coast, Ghana, she began studying at UGA in 2009 and graduated in August 2014. Yaa has already won awards for her graduate studies and presented papers across the U.S. on her research. She is also credited as a co-author on several publications of her major professor, Dr. Jinru Chen. Yaa's studies were originally supported by funds from the Peanut CRSP, and have been continued by PMIL. Upon graduation, she will take her education back to her home country and apply it to real life situations.
PMIL: What is your dissertation research about?
Dr. Klu: "My research is about using peanut butter as a vehicle to carry probiotics to malnourished children in developing countries who suffer from diarrhea."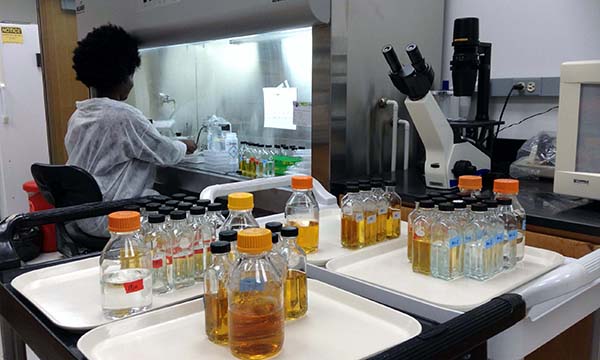 PMIL: Why are you looking at probiotics? Why not just focus on nourishment?
Dr. Klu: "There is a synergistic relationship between malnourishment and diarrhea. Malnourished children have poor immunity and impaired gut integrity, making them prone to infections. Probiotics are known to address the above problems and consequently aid in proper absorption and utilization of nutrients. Adequate utilization of nutrients will help in recovery from malnutrition and thus, it is important to address intestinal health together with nourishment."
PMIL: So you decided to use peanut butter? Why?
Dr. Klu: "Probiotics are effective in controlling diarrhea in preschool children and for excellent efficacy, they need a carrier. Peanut butter is a low moisture, shelf stable, energy and nutrient dense product and a major ingredient in 'Ready to Use Therapeutic Foods' (RUTFs) which are used to treat malnutrition in children. Peanut butter is also naturally rich in arginine. Arginine is important in promoting growth, improving immune function and maintaining gut integrity in children. Thus peanut butter is ideal for carrying probiotics and addressing malnutrition and diarrhea simultaneously."
PMIL: How did you become interested in this?
Dr. Klu: "Growing up, (in Ghana) I wasn't aware of the severity of childhood malnourishment because perhaps it wasn't prevalent in my environment. I only learned how widespread it was when I was working on my undergraduate research, which involved formulating a weaning mix for children. Therefore when I was considering graduate studies, it was important for me to not just get a degree; I wanted to work on something very practical; a significant research I was passionate about."
PMIL: What are your plans after you graduate?
Dr. Klu: "I want to be a professor and mentor other young women. My research will focus on food microbiology/safety, functional foods and human intervention studies pertaining to the health of children. My long-term goal, which is my childhood dream, is to be a food industrialist like the late Dr. Esther Ocloo, (a Ghanaian entrepreneur and pioneer of micro lending for women). I also want to continue working on weaning foods because, it's during the weaning period that most children start to get malnourished."
PMIL: So when they stop nursing theybecome malnourished? Why?
Dr. Klu: "It's a complicated issue. For many, it's simply because they cannot afford nutritious foods. For others, they may not have enough knowledge on the right foods for their infants. For example, peanuts are a huge commodity in Ghana, but the population doesn't know the health benefits; I didn't know the rich health benefits of peanuts until I started my research. Additionally, some cultural practices could be involved and therefore it is difficult to single out one factor for this problem."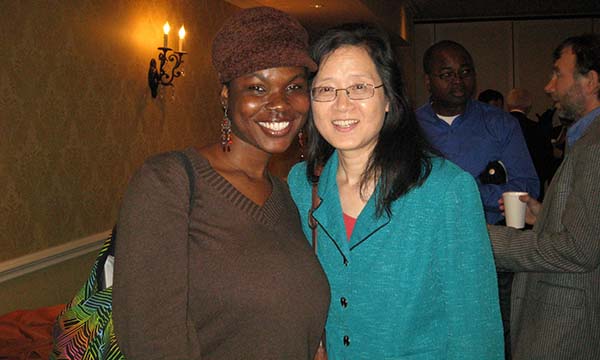 PMIL: How do you feel your studies and experience with PCRSP and PMIL will help you to make a difference back home?
Dr. Klu: "The PhD program is like being in ship on the high sea; you either sail or you sink and I'm glad I sailed. Graduate school has a way of molding and strengthening you, making you patient and instilling academic/social values into you. I have matured in every way and I have gained social and professional skills/ethics, which will advance my career. Also, my research was pertinent to issues in my home country. Thus, I will not have any problem continuing with that and, I can easily apply my expertise to contribute to the development of academia and the economic development of the nation as a whole. When I was looking at graduate schools, I spoke to Dr. Chen, and she gave me a chance and I must say I don't have any regrets choosing UGA. I am grateful to Jesus for an opportunity to do such an exciting research."
Published April 24, 2014