Just One Handful: Peanut Innovation Lab highlights the power of peanuts
By Allison Floyd
University of Georgia, Peanut & Mycotoxin Innovation Lab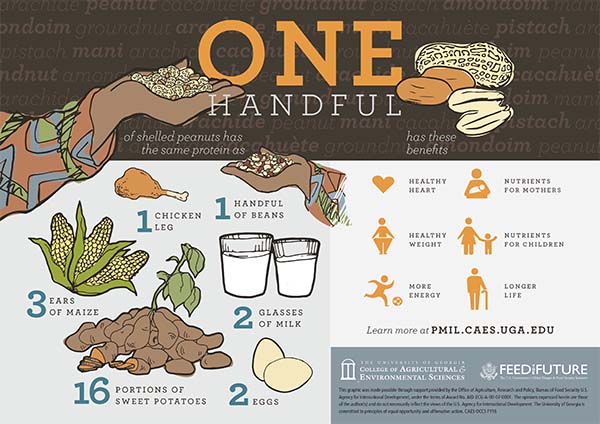 Aflatoxins are dangerous substances that can kill livestock and people. They can destroy trade and steal the hope for a little cash that a smallholder farmer has in his crop.
So, why not give up on crops like groundnuts and maize? Why fight for a crop that might turn bitter?
Because peanuts also save lives.
"We wanted to stress the value of groundnuts as a source of nutrition," said Dave Hoisington, the director of the Peanut & Mycotoxin Innovation Lab. "Researchers focus so much on the problem of mycotoxins and the subgroup of aflatoxins, but we don't want people to lose sight of why this research is important … because groundnuts are a powerful food source and can help people live better, longer lives."
To stress those points and give collaborating partners around the world another way to raise awareness about the nutritional value and health benefits of peanuts, PMIL created a simple infographic that compares the protein in peanuts with the energy in various other foods. The graphic also points out health benefits of peanuts that have been chronicled through medical research over the years.
Designers purposely worked to tell the story of the peanut in pictures, rather than words to make the graphic useful across different language regions and in places where the literacy rate is low.
"We know the basic factors that encourage mycotoxin development and are working through research projects in Haiti and Africa to minimize those with better growing, storage and processing techniques, as well as researching to create genotypes that resist aflatoxin development," Hoisington said.
"We hope that the infographic will help people around the world remember that they have a great crop in peanuts."
Translations

Protein Comparison
Take a look and compare protein:
17 grams of protein in 65 grams of peanuts (one large handful of shelled nuts)

10 grams of protein in one chicken leg

10 grams of protein in two eggs

16 grams of protein in ½ liter of milk

16 grams of protein in eight sweet potatoes (a serving equals half a potato)

14 grams of protein in one large handful of black beans
Health Benefits
As a source of protein, fiber and vital minerals, peanuts offer health benefits, including:
 Published December 21, 2015