Peanut diversity in Eastern and Southern Africa
Principal Investigator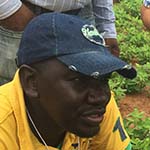 David Kalule Okello
The National Semi-Arid Resources Research Institute (NaSARRI), a constituent institute of the National Agricultural Research Organization (NARO), Uganda
kod143@gmail.com
Co-PIs:
Lutangu Makweti
Zambia Agricultural Research Institute (ZARI), Msekera Research Station, Box 510089, Chipata, Zambia
makwetij@gmail.com
Amade Muitia
Mozambique Agriculture Research Institute (IIAM), Nampula Research Station, Av.FPLM kv 7, Corane, Nampula Mozambique. amademuitia@hotmail.com
amuitia@gmail.com
Justus Chintu
Department of Agricultural Research Services (DARS), Chitedze Research Station, P.O. Box 158, Lilongwe. Malawi
jmmchintu@gmail.com
jmmchintu@yahoo.co.uk
Jean-Marcel Ribaut
Integrated Breeding Platform (IBP), Km 45 Carretera Mexico-Veracruz, CIMMYT, El Batán, Texcoco, Mexico
j.ribaut@cgiar.org
Peggy Ozias-Akins
Department of Horticulture, University of Georgia, Tifton Campus, Tifton, GA, USA; pozias@uga.edu
Daniel Fonceka
ISRA/CERAAS, Thies, Senegal Researcher and Scientific Coordinator, ISRA/CERAAS, Thiès, Senegal
daniel.fonceka@cirad.fr
Enhancing the genetic potential of peanut production in Eastern and Southern Africa
Area of inquiry: Varietal Development
Country focus: Malawi, Mozambique, Uganda and Zambia
Project length: Four years
Budget: $300,000
The use of molecular markers to unlock the potential for more diversity in a contrasting panel of accessions for crop improvement is a proven and successful approach. Building on the drastic reduction of genotyping costs, and an increased analytical power over the last decade, GWAS is now a powerful approach for the genetic dissection of target traits and the identification of favorable alleles/genomic regions when these are present above a certain frequency in segregating populations. In peanut, genetic variations have mainly been identified and exploited, until now, by breeders using bi-parental populations because of the lack of polymorphism in the cultivated species, and of suitable and cost-effective genotyping technologies. Recent advances in peanut genomics –  among which the sequencing of cultivated peanut and the development of a high-density genotyping Axiom_Arachis array with thousands of polymorphic SNP for cultivated peanut – open the way for high-throughput genotyping in peanut, allowing effective genetic dissection of target traits, and the identification of major genes and/or QTLs for marker-assisted breeding.
Using 200-300 accessions identified in collaboration with another project, will be tested across a range of environments and conditions in least four countries in Eastern and Southern Africa, and four in West Africa through Daniel Fonceka's project to generate relevant information and data around diversity and the genetic basis for target traits, leading to a broadening of the genetic base for peanut breeding programs, and the development of new genes/markers for molecular breeding. The overall objective of the project is to characterize and document a unique pool of material that can be used as a new source of germplasm and alleles to improve peanut breeding in Eastern and Southern Africa. This coordinated effort across strong, existing networks will enable us to:
1)         assess diversity and identify germplasm from the core panel to be introduced to national breeding programs to fill possible diversity gaps;
2)         dissect the genetic control of target trait variation via association studies, and identify trait-linked markers for breeding purposes;
3)         based on performance, identify potential new donor lines for local breeding programs; and
4)         increase capacities for a vibrant network of peanut breeders in Eastern and Southern Africa to apply modern genetic approaches in breeding, and to collectively share and analyze data.