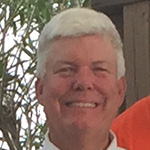 Robert Kemerait, Ph.D.


Associate Professor
University of Georgia
Plant Sciences Building
2360 Rainwater Road
Tifton, GA USA 31793-5766
kemerait@uga.edu
+1 (229) 386-3355
Academic Background
PhD in plant pathology, U of Florida, 2000
BS in chemistry, U of Florida, 1989
BS in biology, Davidson College (NC), 1987
Research Interests
Dr. Kemerait focuses on diseases and plant parasitic nematodes that affect peanuts (Arachis hypogaea), cotton (Gossypium hirsutum), soybeans (Glycine max) and corn (Zea mays). Working with other researchers and Extension specialists at the University of Georgia, as well as colleagues from the agrichemical industry, Kemerait coordinated investigation, development, and implementation of the Peanut Rx, a risk index program for the management of tomato spotted wilt, leaf spot diseases, southern stem rot, and Rhizoctonia limb rot affecting peanut. 

Through collaborative international development projects, he's worked with indigenous peanut farmers in Guyana, South America, since 2002 and with peasant farmers in Haiti since 2007.  
Current project
Production to Consumption - Technologies to Improve Peanut Production, Processing, and Utilization in Haiti
More about Bob
Peanuts can save a life, that's why I go to Haiti
Tiftonite helps farmers keep diseases and nematodes out of crops