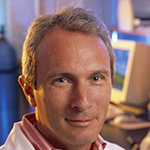 Scott Jackson, Ph.D.


Professor
University of Georgia
Center for Applied Genetic Technologies
111 Riverbend Road
Athens, GA USA 30602-6810
sjackson@uga.edu
+1 (706) 542-4021
Background
Dr. Jackson's research focuses on the application of genomics and cytogenetics to understand the structure, function and evolution of plant genomes. His lab has been involved in sequencing plant genomes such as soybean, common bean, pigeonpea, chickpea and peanut. He received a Ph.D. in Plant Breeding and Genetics from University of Wisconsin-Madison in 1999.
Current project
Translational Genomics to Reduce Pre-Harvest Aflatoxin Contamination of Peanut